Name-your-price offer on Bandcamp.
Sam's 1984 album of minimal-synth / synthwave is #free on Bandcamp for a limited time.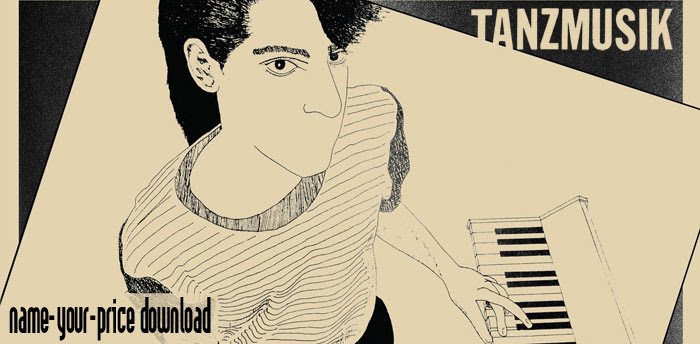 Originally released on vinyl in March 1984, Tanzmusik is one of minimal synth's top Holy Grails. Recorded in the electronic style now known as synthwave, it was the first LP from Sam Rosenthal, founder of the iconic Projekt Records label and mind behind one of the most influential darkwave acts out of the US, Black Tape For A Blue Girl.

A historic work that deserves to be torn from oblivion, Tanzmusik was completely recorded at home on a four-track TEAC-2340 with a super minimal setup (Korg Poly-61, Moog Realistic Concertmate MG-1, Boss Dr-110 and some effects). The '84 vinyl release was limited to 250 copies with a tannish card glued to a white LP jacket; the re-release in 2012 was an edition of 500 on Italy's Mannequin label. All physical formats are once again sold out, but the album lives on in the digital world, with a name-your-price-download at Bandcamp.

In 2012, The Big Takeover wrote: "Released at a time shortly before the forming of his band, Black Tape for a Blue Girl, the listener might well be stunned by what they hear. Instead of the dark — some may call it 'goth' — sounds that he would soon become famous for, Tanzmusik is a record that is oddly upbeat, somewhat poppy in nature, yet with a prog-rock heart that's equally undeniable. It's not quite New Wave, it's not quite progressive, it's not quite darkwave — but it is an interesting compilation of the ideas of a talented young man with numerous ideas in his head about directions he could go. "

Recorded when Sam was 19, the album continued in the "electronic mood-music" tradition established on three earlier cassette-only releases. With the added intrigues of the drum-computer, Tanzmusik explored the realms of electronic music that critics at the time compared to Tangerine Dream, O.M.D., Brian Eno and these days also compare to Cluster and the first Human League.

Sam writes, "When contacted about a re-issue in 2010 by Alessandro Adriani at Mannequin, I decided to remaster the album for them. After getting the digitized recordings back from my mastering guy in Canada, I discovered it wasn't the stereo 2-track mix at all but the actual 4-track recording. Wow! I thought the multis were long gone, but here they were in pristine digital form! I remixed the album in my studio, staying true to the original – while bringing back a few instruments that were buried in the '84 mix. Sonically, the current version sounds even more incredible than it did back in 1984!"

"Before I remixed the album, I had not listened to it in probably 15 years. In my memories of the album, I thought the ambient songs were the good ones, and the synth-pop ones were the weak link. But now I think I like the synth-pop ones — like "Alone" and "We Return" — more. On the other hand, I really like that sequencer at the beginning of "The Coming Fall." If my Korg Poly-61 wasn't dead, I would set up that patch again and write something new around it; I still have all the notes for my synth settings for the songs. Scary. Overall, I am a lot happier with the album than I expected to be. When Alessandro got in touch with me about releasing it, I was sort of skeptical, and procrastinated a whole bunch. But when I started actually working on it, I liked it. It's quite a nice album. Schizophrenic, but that's OK."

Sam Rosenthal is an American artist. He is the founder and leader of the band Black Tape For a Blue Girl and the record label Projekt Records (35th anniversary in 2018). He lives in Portland Oregon with his son and cat. Black Tape For a Blue Girl — begun in 1986 after his move from Florida to California — serves as a vehicle for Rosenthal's musical vision. Its signature combination of gothic, ethereal, ambient and neo-classical elements explores existential themes of loves lost and passions yet to come. After releasing 9 cassettes and the LP of his early electronic work prior to 1986, he developed a full-fledged band whose members revolve around Rosenthal's subtle electronic foundation. In the last few years he has also been releasing electronic solo work under the names As Lonely As Dave Bowman and Sam Rosenthal, as well as collaborations with other artists.

Click Here for the history of Projekt's out-of-print releases, and Sam's early electronic releases.